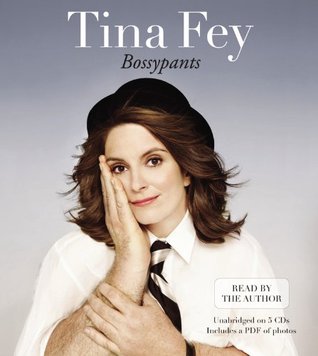 Title: Bossypants
Author: Tina Fey
Series: N/A
Publisher: Hachette Audio
Release Date: April 5, 2011
Medium: Audiobook
Voice Actor: Tina Fey
Awards: Goodreads Choice for Best Humor (2011)
Finished Reading: January 25, 2014
This book, unlike a lot of the books I read, was not a recommendation. I found this one all by my lonesome! I picked up this book because I have an affinity for Ms. Fey. She's awesome. I first fell in love with her while she was doing Weekend Update with Jimmy Fallon on Saturday Night Live. Her thick glasses, quick wit, and subtle beauty hooked me. I also just love the title and cover. (Yes, I very much judged this book by its cover.)
So, what can an autobiography of Tina Fey be about? Well, it's about Tina Fey! Before she became Liz Lemon on her show 30 Rock, before her explosion of popularity being Sarah Palin on Saturday Night Live, Fey starts out in a small town theater with big dreams and tenacity to make it all come true. Fey takes us on her journey, and what a journey it is! I don't want to get too much into it, just because I don't want to tell Fey's story for her when she does such a superb job herself. She does a great job showing woman empowerment in a male dominated world and I love her for that.
I did this as an audiobook and, boy, am I glad I did! Fey caters to the medium, which is just excellent. There's even a part where she says "…coming to the end of this audiobook…" Awesome. There's an audio clip from SNL included as well. I just cannot get enough. The fact that she is the voice actor for her own book just adds all that much more. She performs it exactly as it should be. Instead of someone taking on Fey's voice, you hear it straight from Fey's mouth. She is just hilarious. Telling jokes, adding flair to serious moments, and adding the stresses and excitement when needed.
So what did I rate this book and why? I rated it four stars! I finished it and I thought it was great! I'm not super into non-fiction, but this book may have changed my whole outlook. If you have just an inkling of interest in Fey, read this. Do it as an audiobook, for sure. It'll definitely enhance your experience.
Is this book on your "to-read" list? Have you already read it? What do you think of Fey or her autobiography? Let me know below. Like, comment, and follow! I will release a new book review every Monday.
Until next time my fellow bibliophiles!