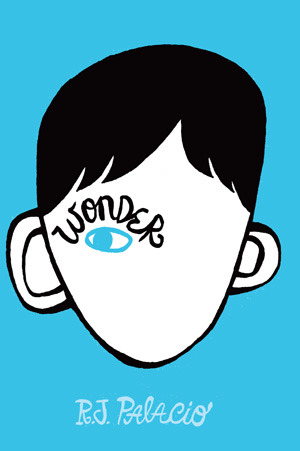 Title: Wonder
Author: J.R. Palacio
Series: N/A
Release Date: February 14, 2012
Publisher: Brilliance Corporation
Medium: Audiobook
voice Actor: Nick Podehl, Kate Rudd, Diana Steel
Awards: West Australian Young Readers' Book Award (WAYRBA) for Younger Readers (2013), Carnegie Medal in Literature Nominee (2013), The Judy Lopez Memorial Award for Children's Literature Medalist (2013), NAIBA Book of the Year for Middle Readers (2012), Waterstones Children's Book Prize (2013), NCBLA – Notable Children's Books in the English Language Arts (2013)
Finished Reading: February 17
About: "August (Auggie) Pullman was born with a facial deformity that prevented him from going to a mainstream school—until now. He's about to start 5th grade at Beecher Prep, and if you've ever been the new kid then you know how hard that can be. The thing is Auggie's just an ordinary kid, with an extraordinary face. But can he convince his new classmates that he's just like them, despite appearances?
R. J. Palacio has written a spare, warm, uplifting story that will have readers laughing one minute and wiping away tears the next. With wonderfully realistic family interactions (flawed, but loving), lively school scenes, and short chapters, Wonder is accessible to readers of all levels."
First and foremost, have to give a shout-out to the voice actors. Much respect coming from this side of the keyboard right now. I definitely liked the direction of going with different voice actors for the different narrators. It gave very defined and easily identifiable characters. Props. Snaps.
I first picked up this book because I was noticing it was leaving the library fairly often. I wanted to see what all the hype was about. At the same time I was really hoping I wasn't being built up in anticipation just to be let down. Like that time someone built up the mac n' cheese at that one place, only to find out they changed the recipe and it sucked. Nevertheless, I wanted to see what all the cool kids were reading. What all the young folk are reading. (Wow, I need to stop talking like this. I'm only 24, I swear!)
I was definitely not let down. I thoroughly enjoyed this book. The writing itself was not technical, being a Junior Readers' book and all, and I'm totally fine with that. The narrators were all of the age of the target audience, so it fit nicely together. I wish I was as welcoming as Auggie's friends. However, as I kid, I know I was not. That being said it's a great social teaching book. Don't be fooled though – Wonder is a book that transcends generation gaps. This is definitely a book that can be read at a young age in school or for reading at home. However, parents would not be disappointed either. There is so much going on in this book. There is the obvious themes of bullying and acceptance. There are also deeper themes such as societal pressures, peer pressure, and social norms.
The characters are not one-dimensional. A peeve of mine, when they are. There are multiple narrators, which can be awesome if done correctly. Good example: As I Lay Dying by William Faulkner. Bad example: Allegiant by Veronica Roth. I was pleased with the way Palacio did it. Multiple narrators is one of my favorite things. Right between unreliable narrators and stream of consciousness.
Wonder-ing what I rated it and why?: I gave it five stars! I read it and thought this book was just beyond my expectations of a Junior Readers' book. I enjoyed all the characters and how they related. There was even a part where I teared up. (Maybe more than one.) That is when you know the author did a great job. You care enough about the characters to tear up with something horrible or amazing happens to them. I CARE! What is the DEAL?! (Said in my best impression of Jim Carey as the Grinch.)
SO! What did you think of Wonder? Have you read it? Are you going to read it? Do you think it's worth all the talk? Am I full of crap, and this book totally bombed? Let me know in the comments below. Like. Comment. Follow. New book review to come ever Monday.
Until next time my fellow bibliophiles!