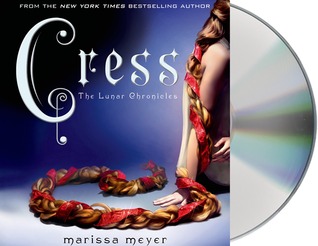 Title: Cress
Author: Marissa Meyer
Series: Lunar Chronicles (#3)
Release Date: February 4, 2014
Publisher: Macmillan Young Listeners
Medium: Audiobook
Voice Actor: Rebecca Soler
Finished Reading: April 1, 2014
Before we dive into the About section, I want to take a second and apologize for the delay in this post. A lot of personal changes have been happening to me, which I'll probably blog about in the future. I just want to say thank you to all my readers and all the support. Enough with the mushy stuff – Let's do this!
**DISCLAIMER** This is the third book in a series. If you have not read book one and two, there will be spoilers. Continue at your own risk.
About: "In this third book in Marissa Meyer's bestselling Lunar Chronicles series, Cinder and Captain Thorne are fugitives on the run, now with Scarlet and Wolf in tow. Together, they're plotting to overthrow Queen Levana and prevent her army from invading Earth.
Their best hope lies with Cress, a girl trapped on a satellite since childhood who's only ever had her netscreens as company. All that screen time has made Cress an excellent hacker. Unfortunately, she's being forced to work for Queen Levana, and she's just received orders to track down Cinder and her handsome accomplice.
When a daring rescue of Cress goes awry, the group is splintered. Cress finally has her freedom, but it comes at a higher price than she'd ever expected. Meanwhile, Queen Levana will let nothing prevent her marriage to Emperor Kai, especially the cyborg mechanic. Cress, Scarlet, and Cinder may not have signed up to save the world, but they may be the only hope the world has."
This book. First of all, I love what Meyer is doing with the re-invented story tale. Since I haven't blogged about the previous books (I read them last year and will not have a blog for them.), I'll talk briefly here. I love the idea of machines and cyborgs and space and deadly disease and an evil queen and the whole re-telling of these classic stories. Cinder brought us the re-telling of Cinderella. Scarlet is the re-telling of Red Riding Hood. ANNNNND Cress is a re-telling of Repunzel. Let me clarify for just a second. When I say re-telling, I don't mean the whole story is re-told. Rather, the big picture that Meyer is accomplishing is being told through different tales. If that makes sense. (If it doesn't, you can yell at me in the comments below.)
Shout out to Ms. Rebecca Soler. She has been the voice actor for the previous two books, and I am stoked she is back again. She truly has a gift and gives each character their own, unique voice. I can easily tell who is talking by which accent or inflection she is doing. Snaps for Soler!
On to the story. I am actually a little iffy on this one. I love the concept and I can see where this one is going, but it seems like I waited a long-ass time. There is a lot of prepping and planning and I really just wanted them to storm the castle, take over the Queen and just be done with it. That being said, the action scenes (when they eventually happened) were truly amazing. They're easy to picture and I'm in awe of Meyer's ability as a writer.
I think there could have been more done with the Repunzel act. Yes, Cress is locked in a space ship and is rarely visited. Yes, she has super long, long hair. BUUUUT, she escapes and her hair is cut off. Maybe I just don't remember the original story all that much, but I thought there would be more. Just … more. I'm also not super sure how I feel about the whole love-interest going on in this one either. Let me know what you think about it… I'm not sold on this coupling.
OOK! Something I super enjoyed: (this is turning into a random-thoughts review, apologies) when Scarlet is taken away. Yes, it's horrible. They do ridiculous things to her, that is just inhumane and made me cringe. IT MADE ME CRINGE. Great writing. Something else that's awesome is…. (no spoiler) the girl that wants to keep Scarlet. (If you've read it, you'll know exactly what I'm talking about and you'll squeal. I squealed with you. You're not alone!)
Enough of my ramblings!
My rating and why: I rated this one (drum roll…) three stars. I absolutely enjoyed where the story is going and the set-up and secrets we find out in this installment, buuuuuuut I waited a lot and wanted more with the Repunzel aspect.
What did you think of the book? Do you like the series so far? Is this book on your to-read list? Did you get all tingly and excited… when…? Let me know in the comments below. Like. Comment. Follow. New book review to come Monday.
Until next time my fellow bibliophiles!