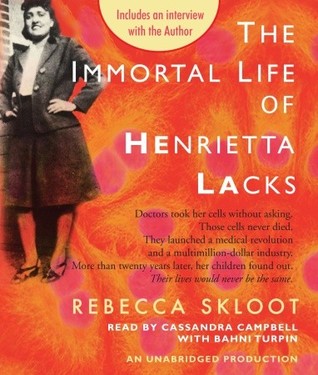 Title: The Immortal Life of Henrietta Lacks
Author: Rebecca Skloot
Series: N/A
Release Date: February 2, 2010
Publisher: Random House Audio
Medium: Audiobook
Awards: Ambassador Book Award for American Studies (2011), Wellcome Book Prize (2010), Puddly Award for Nonfiction (2011), Goodreads Choice for Nonfiction and Debut Author, Nominee for Favorite Book, Favorite Heroine (2010)
Finished Reading: April 11, 2014
About: "Henrietta Lacks, as HeLa, is known to present-day scientists for her cells from cervical cancer. She was a poor Southern tobacco farmer who worked the same land as her slave ancestors, yet her cells were taken without her knowledge and still live decades after her death. Cells descended from her may weigh more than 50M metric tons.
HeLa cells were vital for developing the polio vaccine; uncovered secrets of cancer, viruses, and the atom bomb's effects; helped lead to important advances like in vitro fertilization, cloning, and gene mapping; and have been bought and sold by the billions. Yet Henrietta Lacks was buried in an unmarked grave.
The journey starts in the "colored" ward of Johns Hopkins Hospital in the 1950s, her small, dying hometown of Clover, Virginia — wooden slave quarters, faith healings, and voodoo. Today are stark white laboratories with freezers full of HeLa cells, East Baltimore children and grandchildren live in obscurity, see no profits, and feel violated. The dark history of experimentation on African Americans helped lead to the birth of bioethics, and legal battles over whether we control the stuff we are made of."
I picked up this book because it is the first book of a book club I co-started with a friend. You can read about it here. This is the first book that we decided to read. Honestly, I have no idea how this came about. I had never heard of it before. I just went along with it. The thing about having friends who work in a library, they know every book ever made and that is ever (or will ever) be popular. I'm guessing she used her library assistant wizardry and siphoned this one out of a hat or something.
I figured I could widen my scope and get jiggy with this creative non-fiction book. I was sorely mistaken. I could not get jiggy with it – at all. The story seemed to mostly focus on Skloot than Lacks. The title has Lacks' name and her picture. Skloot decides she wants to go on this journey to figure out who the woman is behind the HeLa cells. Right now, I am definitely feeling the jig. I love this. The hunt for knowledge. The desire to take learning into her own hands and find out the why and the who, rather than just taking what is being "taught" for face value. AWESOME!
However. As we go along the story is more about Skloot and Lacks' daughter, which is aight. I'm ok with this. BUUUT, the marketing was completely wrong. If it was NOT going to be about Lacks, then it shouldn't be marketed that way. I felt let down. Yes, Lacks' cells did amazing things. Yes, this book takes into account that we really need to be careful and watchful and knowledgeable about our healthcare system. Yes, this book further exposes the ridiculous way of treating African Americans. (IE: There was a passage that states that children couldn't stay out late because Hopkins would come and take them. The doctors at Hopkins were peruse the street and take children of color and do experiments.) It's ridiculous that is was a "thing".
The story is great. I loved the character development, but I didn't really enjoy the execution.
My rating and why: I gave it two stars. I read it and finished it, but it just wasn't for me. Maybe it was that I wanted the sciencey bits to be dispersed more throughout the book. Maybe I wanted Skloot to write from Lacks' point of view. I definitely wanted more information of and more of a connection with Lacks.
So what about you? Have you read this book? Have you read other creative non-fiction books that you think just has to be read? Does this book need way more than two stars from me? Let me know in the comments below. Like. Comment. Follow. New book review to come Monday.
Until next time my fellow bibliophiles!