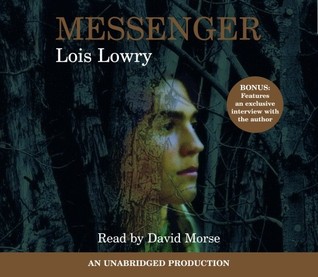 Title: Messenger
Author: Lois Lowry
Series: The Giver Quartet (#3)
Release Date: January 24, 2006
Publisher: Listening Library
Medium: Audiobook
Voice Actor: David Morse
Finished Reading: July 8, 2014
**Disclaimer**This is the third book in the series. If you have not read the first two, there will be spoilers!
About: "Six years earlier, Matty had come to Village as a scrappy and devious little boy. Since that time, Matty had grown almost into a man under the care of Seer, a blind man whose special sight had earned him the name. Now Matty hopes that he will soon be given his true name, and he hopes it will be Messenger. But strange changes are taking place in Village. Once a utopian community that prided itself on its welcome to newcomers, Village will soon be closed to all outsiders. As one of the only people able to safely travel through the dangerous Forest, Matty must deliver the message of Village's closing and try to convince Seer's daughter, Kira, to return with him before it's too late. But Forest has grown hostile to Matty too, and he must risk everything to fight his way through it, armed only with an emerging power he cannot explain or understand."
I'm one of those people that need to finish a series once I start. I had to finish the Divergent series even though it just went down hill with each sentence. So, while I was unsure about Gathering Blue, I had to keep going. Also, my knight in shining armor was waiting with bated breath. He urged me to continue with the series. So I did.
I did this one as an audiobook. There are only three discs. How can anything be accurately worded, described, built-up, resolved, in three discs? Lowry, what is this magic?
Matt, from Gathering Blue is now Matty. He has been in Village for several years and has become educated. His accent is gone. He is much calmer – doesn't steal or panhandle. He passes messages between villages, communities, and from person-to-person. Get it? He's a MESSENGER. Seer is Kira's father – we met him in the previous installment. He is blind – ironic much? However, much like Toffe in The Last Air Bender or Úrsula in One Hundred Years of Solitude by Gabriel Garcia-Marquez, he perceives way more than people with sight. It's quite awesome.
Pros:
Village and Forest don't have articles in front of them and are capital. They are very much characters in this story and that's just plain awesomesauce. Without having a silly name, you aren't given a bias (ie. Hope Village).
Matty has a gift, much like Kira. He doesn't really understand at first. I mean, who doesn't want a super power. I'm debating if I want ESP/other sweet mind powers or be like Mystique in X-Men.
This book ties together the Giver to second and, ultimately, third. It was a complaint I had for Gathering Blue. It was seemingly unrelated to the first book and I was really disappointed I didn't find out what happened to Jonas and Gabe.
Cons:
Super short. I think this one could have been like a 2.5 book rather than a straight-up third addition. While there are definitely important things that happen, it would suffice to have a sentence or two described in the next one perhaps to fully understand what's going on.
The Trademarket was not completely developed. While we know something fishy is going on, not completely sure what it is. I would have liked more info, or just not have put it in at all
The ending was ambiguous to me. I think this might have just been me. I told this to my knight in shining armor and he said that it wasn't for him. He knew what was going on. Sooooo…. I was probably just being a space cadet there.
My rating and why: I give it three stars. I finished it, and while I'm not 100% sold on this book, there were some cool things going on. I think this book is definitely setting up for the next, and final, book in this series. For this, I give it three stars. There are so many directions Lowry can go from here. I'm hoping she sticks with these characters and that she webs together the books further. So, my hope in the future book is what keeps this rating a three.
What about you? Did you know there were other books in the Giver series? Does this bring you back to elementary school? Are you interested? Are you totally turned off? What do you think? Let me know in the comments below. Like. Comment. Follow. A new book review to come Monday.
Until next time my fellow bibliophiles!