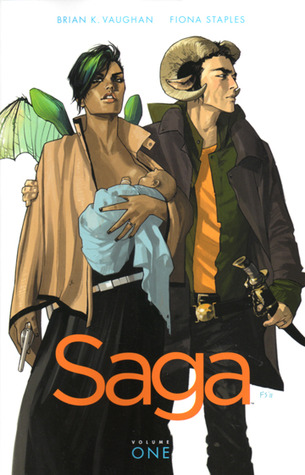 Title: Saga
Author: Brian K. Vaughan
Illustrator: Fiona Staples
Series: Saga #1
Release Date: October 23, 2012
Publisher: Image Comics
Medium: TPB
Awards: Hugo Award for Best Graphic Story (2013), Harvey Awards for Best Continuing or Limited Series, Best New Series, Best Single Issue or Story (Saga #1), Best Writer (for Brian K. Vaughan), Best Artist (for Fiona Staples), Best Colorist (for Fiona Staples) (2013), Will Eisner Comic Industry Awards for Best New Series, Best Continuing Series, Best Writer (for Brian K. Vaughan) (2013)
Finished Reading: May 4, 2014; September 13, 2014
About: "Saga is the sweeping tale of one young family fighting to find their place in the universe. When two soldiers from opposite sides of a never-ending galactic war fallin in love, they risk everything to bring a fragile new life into a dangerous old world. Fantasy and science fiction are wed like never before in the first volume of this sexy, subversive ongoing epic"
I first picked up this book back in May because my knight in shining armor is a huge Trade Paper Back fan. (We had a whole discussion about how Trade Paper Backs (TPB) are different than Graphic Novels. This is a Trade.) He wanted to get me into this world know full-well that I'm an avid reader, but don't have a ton of experience with Graphic Novels (or Trades). I picked up this book again in September for a book club discussion. The theme was Graphic Novels (or Trades) and this was one of the books we read. The review is going to be more about my second reading. The first time around I don't think I really paid attention all that much…long story short: I was just in the wrong mindset to be reading anything. Here we go.
Illustration:
Huge props to Staples. She's an amazing illustrator. The images are definitely – I just don't really have words for them. They're beautiful and intricate and they perfectly fit everything in the storyline.
The world is just awesome. Anything sci-fi gives the illustrator and author a chance to really do whatever they want.
The characters are insanely portrayed. (We'll get more into this when we get to characters.)
Ridiculous use of colors – whether it's moods or determining which side of the war someone is on.
Characters:
Marko: He's the guy on the cover with the horns. He's one of our main characters and an ex-soldier. We follow his new family around trying to run from both sides of the war. He can do magic!
Alana: She's the woman on the cover. She's also one of our main characters. She has wings, but can't use them. She's also an ex-soldier and just an overall bad-ass.
The Baby: The whole story is told from the baby's perspective! That is just… insane. We don't find out what the baby's name is until later, so I'll withhold that info.
IV: He has a TV as a head. He's leading the charge to stop both Marko and Alana.
There's also a whole realm of other awesome characters that I just don't have a whole lot of space to get into: The Stalk, Isabel, The Will, Slave Girl…etc
The storyline is actually one that is age-less. Two star-crossed lovers (literally) have a child and are trying to free themselves from the war of their races. Romeo and Juliet anyone? Hoping they don't end the say way though.
I am definitely going to keep going on with this series. It's just amazing. When I'm going to get to it is unknown with so many other things in my TBR (To Be Read). But there is nothing that's going to keep me from reading volume two and three. Later this year (I'm writing this post September 20, 2014) the fourth volume will be coming out. I might just wait so I can marathon the rest of them. Decisions…decisions…
My rating and why: I gave this book four stars! I thoroughly enjoyed the story and the characters. I definitely recommend this book to anyone who enjoys action, love, graphic novels (trades), humor… really there's a ton of themes going on. Just read it – that's basically what I'm trying to say.
So: Have you read Saga? Have you read his other volumes? What's your favorite Graphic Novel or Trade? Let me know everything in the comments below. Like. Comment. Follow. New book review to come on Monday.
Until next time my fellow bibliophiles!