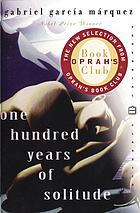 Title: One Hundred Years Of Solitude
Author: Gabriel Garcia-Marquez
Series: N/A
Release Date: November 1, 1998
Publisher: Harper Perennial
Medium: Paperback
Awards: Premio Internacional de Novela Rómulo Gallegos (1972), Prix du Meilleur Livre Étranger for Roman (1969)
Finished Reading: June 1, 2014
About: "The novel tells the story of the rise and fall of the mythical town of Macondo through the history of the family. It is a rich and brilliant chronicle of life and death, and the tragicomedy of humankind. In the noble, ridiculous, beautiful, and tawdry story of the family, one sees all of humanity, just as in the history, myths, growth, and decay of Macondo, one sees all of Latin America.
Love and lust, war and revolution, riches and poverty, youth and senility — the variety of life, the endlessness of death, the search for peace and truth — these universal themes dominate the novel. Whether he is describing an affair of passion or the voracity of capitalism and the corruption of government, Gabriel Garcia Marquez always writes with the simplicity, ease, and purity that are the mark of a master.
Alternately reverential and comical, One Hundred Years of Solitude weaves the political, personal, and spiritual to bring a new consciousness to storytelling. Translated into dozens of languages, this stunning work is no less than an accounting of the history of the human race."
I picked up this book because of the book club I'm involved in. We decided we wanted to read a Garcia-Marquez book because, at the time, he had recently passed away. This was the one we landed on.
It was my first introduction to magical realism, which I'm thankful for. He's considered the grandfather of magical realism and this was definitely a great book to start with. The fact that no one is surprised when people float away or when babies are eaten by ants, is, oddly enough, not weird. We're taken along the ride with them. We grow to accept all these oddities and keep them as "normal". There were a couple times when I had to stop, and think Did that really just happen?. The answer was always: Yes, yes it did.
Starting from the beginning, I had a hard time getting into Garcia-Marquez's writing style. He would tell us someone died, and then they weren't dead. This didn't just happen once, no sir. It happened several times. I just couldn't get into it, until I did. All of a sudden I realized I couldn't put the book down. I couldn't get away from this insane, yet realist world. While things are definitely exaggerated (could go without saying), there are still themes that are ever-present in today's life.
I can't tell you who is who, to this day. I can't tell you who married whom. I can't even tell you which person was in the armed forces or moved away to another country. I CAN tell you that I am a fan of magical realism.
My rating and why: I gave this book four stars! I read it and really enjoyed it. It had been a long time since I read anything considered "literature", so I was a little slow-going. Once I got into the groove though, there was no stopping me. I added several other Gracia-Marquez books to my to-read list and I'm excited for the day when I get to them. Fun fact: Our book discussion for the day was called "Good Morning, Garcia-Marquez". I was super pleased with having come up with awesome alliteration-ish. It was over brunch, so it definitely fit the theme.
Have you read any magical realism? Are there other Garcia-Marquez books that I have to read? Is this review ridiculous and the book a slander on all things literature? Which language did you read this in (it has been translated to many!)? Let me know in the comments below! Like. Comment. Follow. New book review to come Monday.
Until next time my fellow bibliophiles!
PS. I apologize for the late post this week, I will try and be more on top of it in the future! Love you all!